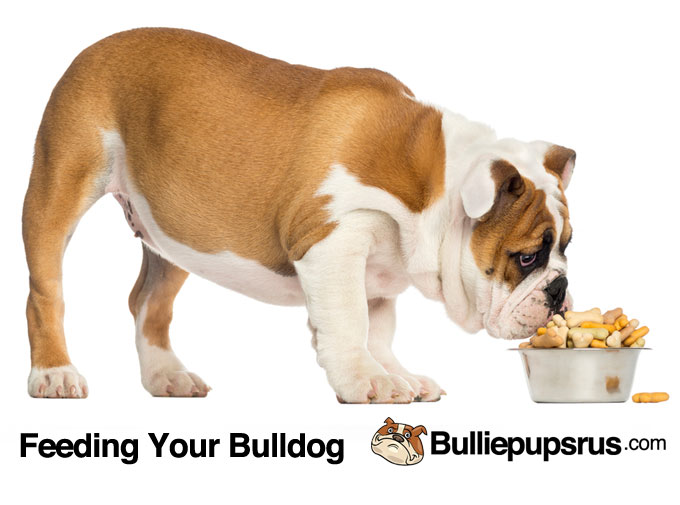 For kibble I recommend Nature's Recipe Non-Allergenic Venison Formula, which you can find at both PetSmart and Petco. I also like using Canidea and Avoderm. Premium dog foods are the best choices. Cheap dog foods will give you skin and coat problems. Stay away from foods with a high corn content because you will be picking up many more piles in the yard, and corn can cause major allergic reactions in Bulldogs.
I know a lot of people that have fed Black Diamond foods. I also know for a fact that this food has been recalled by the manufacturer on more than one occasion, so I have never used it and will not.
All vegetable diets tend to keep Bulldogs too skinny. An unhealthy skinny. Also foods high in carrots, tomato, and sugar beats will cause staining with a dog's coat and skin.
For canned food I recommend Nutro's Natural Choice, also found at PetSmart and Petco. I also use Canidae cans. They have various recipes to choose from. For dogs I am trying to put weight on for the show ring, I feed the high energy formula because of the high fat content. Avoid canned food with high salt content as it can cause bloat and death.
I do not like raw food diets. A lot of dog owners are feeding that diet these days, but I would rather not put all of the live bacteria into our dog's systems. At times I do feed some cooked liver or scrambled egg, on top of the kibble. Again, it's cooked. If you feed eggs often and do not cook the whites of the eggs it causes digestive problems for the dog. Never ever feed a dog raw fish, or any type of shell fish.
Many Bulldog owners constantly comment and complain that their dogs passes a lot of gas. This is a very good indicator that they are using the wrong dog food. Don't live with the irritant, put the dog on the proper diet. Everybody will be happier.